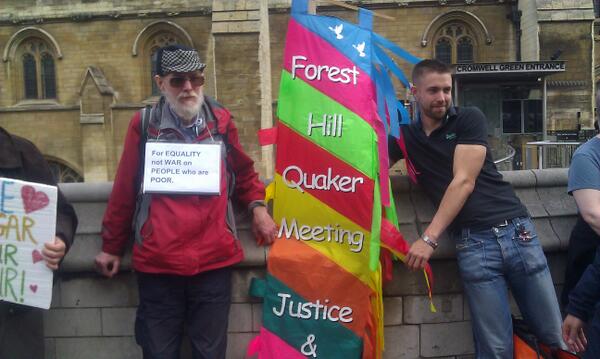 I did a callout for Quakers to witness at last Saturday's fascist march in London and 18 folks turned out from several meetings in London and from further afield too. I often do activism, but this was the first time I'd felt called to witness. The support from Friends was terrific including Friends House promoting the action on social media. I couldn't get ahold of the 'Quakers for Peace' banner from Friends House, but happily I was offered the use of the lovely banner from my local meeting Forest Hill. We found a nice sunny spot in front of Parliament and had a great meeting for worship while people ran around us, photographed us and set placards on fire nearby. We got lots of photographer attention and even an audio interview.

http://audioboo.fm/boos/1426218-i-speak-to-a-quaker-having-a-vigil-for-peace

Our meeting for worship:



Me with the wind having blown the banner over me!